With my first born I kept EVERYTHING! No one picture or craft project was not saved. By the second child I started to keep my favorites. Even then the papers and sparkly craft projects were taking OVER! I then started just writing their names and age on it then taking a picture. I allow the masterpieces to stay on the fridge so the kids can feel proud of them before

I THROW THEM AWAY!!
Sounds like a horrible mom, but in fact it saves me from being a

crazy

hoarder living in piles of piles of paper, glitter, pine cones and popsicle sticks!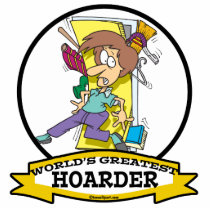 Here's what I do:
After the work of art (if hangable) graces us with its awesomeness on the fridge, I have the child hold the artwork and I take a picture! This way you can see the age that they made it. I also just take a picture of the art in case I want to put it in rotation on digital frame. It looks like framed art! That way we can enjoy it all the time without having to hang 100 pictures a month. You can also use the pictures to make a photo book of your child's finest work or written letters on an online program like shutterfly or snap fish.. I love reading the kids work and seeing how their handwriting has changed as well as their spelling. I still save a select few, but not many.
My Two Cuties Briarlyn & Jalen
That's it!
A clutter free life just minutes away. Its better to live in the now anyway and really what are you really going to do with all those papers?? Would you really want bins full of your old work growing up as a child? Maybe to see it, but really what would you do with it?? So, take my advice and snap shot it and MOVE ON!! Be careful though, because at first when your child sees you throwing away an art project...... they may get a 'lil hysterical, so make sure you explain it to them first or do it when they are not looking! HAPPY DECLUTTERING!!
written by Brandi