Ok, so if you haven't heard or tried BEE pollen then you need to read this!! I take it everyday and LOVE and swear by it.

What is BEE pollen you may ask??
It is a mixture of bee saliva, plant nectar, and (true) pollen.contains minerals,
carbohydrates, lipids, and protein, free amino acids, vitamins, including B-complex, and folic acid.

Isn't pollen the stuff in the air that makes
my eyes water and itch???
No!! it differs from wind-borne Pollens. One is essential in fertilization of plants and the other a heavier variety that makes you Sneeze!!!It has been effectively used through the ages to rid allergy sufferers of their afflictions. Start taking 6 weeks before the spring season starts and during to ward off symptoms.

Ever since I started taking it daily, I have noticed a change in the appearance of my skin as well as my energy level!! WHOOP WHOOP-mama always needs some extra energy to chase the kiddos around!


I buy mine at our local health food store that needs to be stored in the refrigerator and have seen it at Whole Foods as well. You can also get in in pill form, but I prefer it its its purest form of granules from my state of California. I put mine in a mason jar with old Parmesan lid so I can scoop or sprinkle into yogurt, smoothies, oatmeal, cereal, salad. Just don't add it to anything that requires heat. Heat destroys the active enzymes and reduces the nutrient value.
**I have found that the best and easiest way to take it is to pop a chocolate chip in my mouth, chew, then take the pollen straight up, chewing and adding a few more chips :) The pollen doesn't taste bad, its just a 'lil strong. At first it was a 'lil tough to get it down, but now I'm a champ ;)
Do a test day first by putting one granule on your tongue to see if you have any negative reactions to it. People that are allergic to bee stings and have high allergens to pollen are more at risk of a reaction.
If you are all good in the hood then start taking a few granules a day for a week and then increase your dosage to 1tsp a day. Then eventually you can take up to a tablespoon a day. Increase slowly bc it could have an effect on your gastrointestinal tract. On day three and only day three, I did notice I had to use the "powder room" more often then any other regular day ;)
It is
important
to recognize that a one teaspoon dose of pollen takes one bee working eight hours a day for one month to gather. Each bee pollen pellet contains over two million flower pollen grains and one teaspoonful contains over 2.5 billion grains of flower pollen. So RESPECT the bee!
It speeds of metabolic process and suppresses your appetite while eliminating cravings. The Lecithin in it helps dissolve and flush fat from the body. That said, can be used for weight loss and/or management.
And what it does for the skin has been one of the major factors for me and its continual use. The nutrients of poly-vitamins, microelements, enzymes, hormones, and amino acids that are present in
bee pollen
give what is needed by the body to form new tissue. In return making your skin less wrinkly, acne free and more hydrated with the blood flowing through the skin.
Not only do I use it internally, but externally as well. Here is the mask I use:
Have all the ingredients at Room Temperature.
Either in a jar, by hand or blend in a blender all ingredients. Blend Well.
Now clean your face and throat thoroughly. With fingers apply this mask.
Leave on for 20 minutes, and then rinse with warm water.
I know, I know, sounds to god to be true! But that's why it has been called the "perfect or super food". Its actually the only "perfect food" that exist. It has all the essential nutrients that your body needs to survive and thrive. I say, Do your research and learn all the awesome reasons to take bee pollen. I did and am thrilled with the results. There are so many other suggested capabilities of this natural super food and knowing them will only benefit you.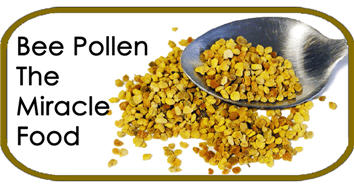 BUZZ BUZZ my friends
and let me know what you think!
Written and Tested by Brandi~noted bee lover ;)